Whitney Houston was born Cecelia Whitney Elizabeth Houston on August 9th of 1963 in Newark, New Jersey. She was the youngest, and no doubt the most talented, of three children.  Her mother was cousins with Dionne Warwick and her godmother is singing legend Aretha Franklin, who recently died. All three women have shaped the woman she was.
Whitney sang along with her mother, and other great singers, for a number of years before going it alone. She had a successful modeling career prior to hitting it big as a singer. She graced the cover of Seventeen Magazine and did commercials. Clive Davis of Arista Records saw her in one of those performances and was impressed enough to sign her with his prestigious organization. Whitney was nineteen (19) then. Her music debut was on the Merv Griffin show in 1983.  She did an interview with Rolling Stone Magazine soon afterward, and the New York Times said her first album was slated for certain success in the R & B platform. Both of Whitney's early albums made it to the top 200 Billboard.
Whitney enjoyed some success in the R & B sector of the music genre. However, it was not until she crossed over into the Pop forum that her career really, really took off. She had seven consecutive  records make it into the Billboard Top 100.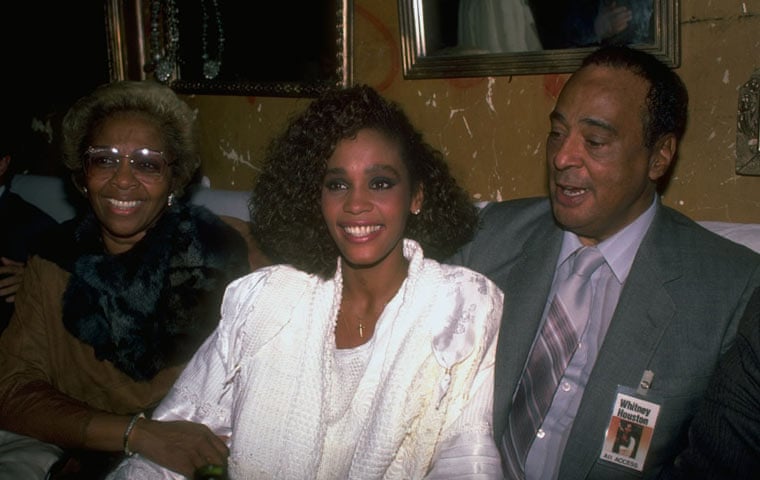 Ms. Houston won her first Grammy in 1984 for her 'Language of Love' album. She also got Best Pop Performance by Female and Outstanding Individual Performance in Variety Music that same year. In 1987 she won seven Grammy's! 1988 she was nominated for three more Grammy's. Those awards would not be her only claims to fame.
In 1990 Whitney embarked on her 'I'm your Baby Tonight' Tour and I was pleased to be part of it. I was living in Miami, Florida where a friend of my friend hooked me up with this short-term employment contract with promises of more to come, if I were so inclined. I was apprehensive initially, but decided to give it a whirl. This little job was very lucrative–cash paid daily to the tune of $150, and lots of fun!  I had never been up close or had any personal interaction with a star of her quality ever before and it was a moving and memorable experience.
I was hired to be what the Hollywood segment calls a PA or Production Assistant. In reality I was a glorified gopher. I drove a van ever day from their hotel in Coconut Grove to the practice site, which was a large auditorium west of the City of Miami, FL. The day began early and ended late. I was tasked with driving the back-up singers, dancers, and choreographers to and from rehearsals. They were a rowdy bunch of talented, driven people who always thanked me for getting them to practice on time and they never fell short of interesting stories to fill our drive time to and fro.
I vividly recall the first time I heard Whitney sing. I had just followed the dancers, choreographers, and costume designers into the auditorium. There was a buzz of excitement to the room that I could feel like an electrical cable crossing my skin. The room fell silent as Whitney approached the stage. There was no music behind her voice or any other noise in the entire practice auditorium. All eyes were upon her and her alone. She strolled over and sat upon a wooden barstool with no microphone wearing a white t-shirt, tennis shoes, and jeans. The light and sound crews practiced adjusting what colors of light to stream in and out, as well as, how the sound was balanced as it came out of the stage and flowed into the open space.  Whitney waited patiently while men talking into headsets chattered back and forth until they had everything just right. The bright lights were shone down on Whitney and created an almost angelic aura to her.  As the light overtook her I caught giant flecks of brilliant multicolored light stemming from a ring on Whitney's finger. It was nearly blinding it shone so bright. She was unmistakably sporting a giant diamond ring on the finger intended as an engagement ritual prior to embarking on marriage. Behind the scenes there was much discussion about her new beau, Bobby Brown. Some close to her inquired as to where this relationship was headed.  There were a variety of opinions and not all were good. I had no idea who Bobby Brown was at that time. I would learn more as time marched onward.
Once the lights and sound were set Whitney began to sing. From her perch she opened her mouth and the most ethereal sounds came forth.  I had long since heard the phrase "a voice like an angel", but until then had not personally witnessed that type of voice. It was beyond spellbindingly beautiful. She sang with such passion and heart. I was awestruck! My fate as her fan was definitely sealed.
Whitney was not a dancer back then. Mind you she needed no dance to distract from her amazing talent. However, MTV had changed the landscape of singing. Dance was now a critical component to video and stage productions for artists. The back-up dancers performed all sorts of moves with ease. They flew through the air leaping and rolling as effortless as a butterfly flitting to the music, feeling the beat with their whole bodies, twitching, twirling and whirling silently upon the stage. Again, I was in awe of their raw talent.
During the weeks that I was in Whitney's employ all of her people treated me as if I were one of them. They were honest and earthy. They were humble and meek despite their incredible talent. I was in the presence of greatness. Some of the back-up singers and dancers shared stories of other famous people that were honored to work with and for. We got to know each other fairly well from those early morning curtain calls that lasted until those latenight end of practice sessions. I admired their dedication to their craft immensely and hoped to one day find something I could be equally as passionate about. They worked long and hard, sometimes without many breaks and yet never complained. They were lucky enough to be doing what they loved and it showed.
This job lasted ten weeks and during that time Whitney's Aunt Bea was our direct go-between. Aunt Bea took an instant shine to me and I was honored to be her pet. Whitney liked white pizza and I was sent out for that and other various and sundry things between driving the dancers, choreographers, and back-up singers back and forth. Aunt Bea always gave me cash, always rewarded me with a nice tip, a bright and cheerful smile, and "thank you for my services". I recall her as a warm and gentle woman who cared a great deal for her niece. Whitney, back then, was a shy, hugely talented, graceful, coltish young woman with a rising star in her zodiac sign.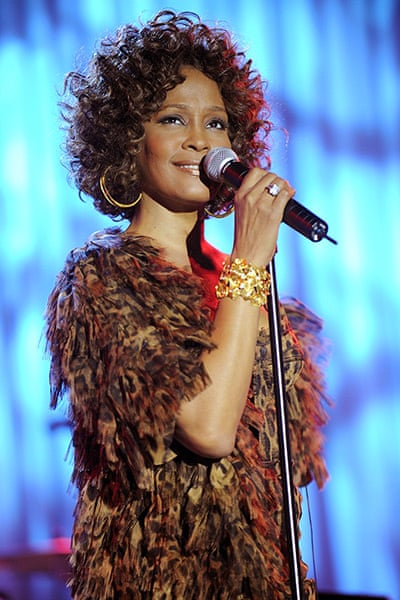 The 'I'm Your Baby Tonight' Tour album was released in November of 1990 and was a resounding success. Whitney continued to sing and release new albums, but she also ventured into the acting arena with movies like; 'The Bodyguard', 'Waiting to Exhale', "The Preachers Wife", and 'How Stella got her Groove Back'. Worldwide her movies grossed billions of dollars and gave her even more fame.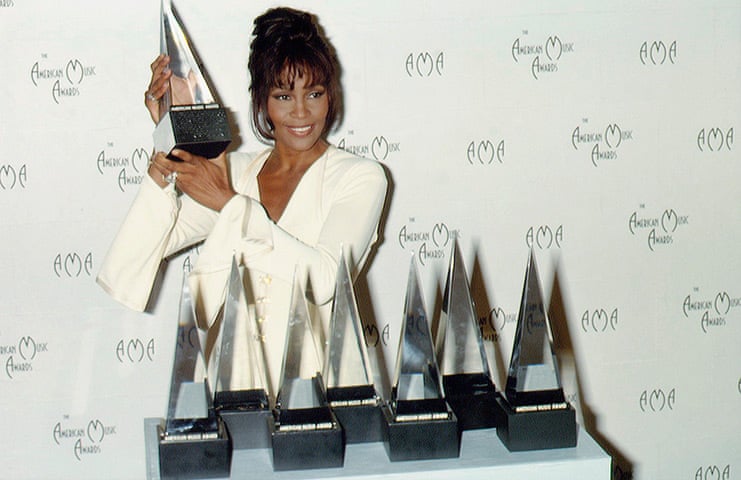 After marrying Bobby Brown, Whitney's career became stagnant. She was less in the public and had some brushes with the law over drugs that were never part of her life before that fateful union. If outward appearances were any indication of her overall health she was spiraling downward and the media had all but written her off. However, Whitney was resilient. She comes from strong stock. After a while out of the limelight she appeared to be back on track or was she. She created a new album after a long dry spell and looked better than ever! As a matter of fact, the soundtrack from "The Preachers Wife" set records across the gospel charts that still remain unbroken.
That was all short lived. She was found dead on February 11, 2012. It was termed an overdose/drowning, accidental of course. Whitney was in Beverly Hills California for the Grammy Awards. It was a sad day for music and the world. She left one daughter and her drug addicted husband and not too long after this sad scenario her daughter would suffer her same fate.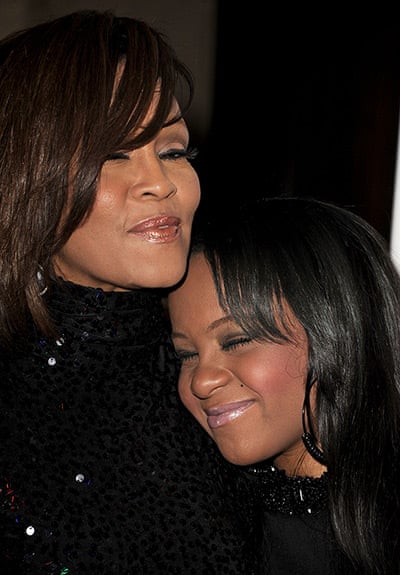 Whitney sold over two hundred million albums (200M) worldwide and was widely recognized as the most awarded artist of her time.  For more information about her latest albums please log on to her web site www.whitneyhouston.com.
References;